Concrete Stamping Expertise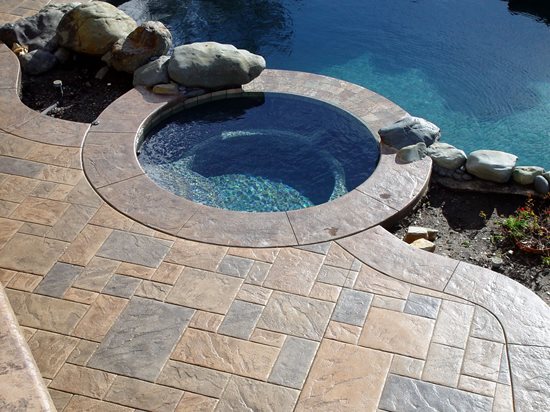 Industry-Leading Concrete Repair Products & Design Support
There are several reasons why homeowners should consider using stamped concrete, as it is an excellent option for a variety of property improvements. Stamped concrete is an excellent option for patios, walks and driveways. Our crews and products are the best in the industry and they are held to the highest quality standards. You are welcome to visit our facility to review many of the decorative concrete patterns that are available. Check out some of the awesome projects that we have completed in the past to help get a sense of what might work best for your specific project.
At Fence Company Cypress, we offer the best concrete stamping services in Cypress, Tx. We have the best concrete constructors who have years of experience in making perfect stamped concrete. Let us give your driveway an amazing look by simply doing what we are good at, pouring the concrete, stamping it, and making sure we give you a fantastic stamped driveway.
STAMPED CONCRETE IN CYPRESS, TX
Stamped concrete has gained popularity in the recent past. They are what everyone is going for. Their beauty and durability is the reason why it is preferable over other driveway floorings. One of the most important things when it comes to stamped concrete driveways is finding the right contractor for the work.
If you have a stone walkway that leads to your garden, then a stone pattern for your patio will give your landscaping a seamless look. It might take a little time, and you might need a second set of eyes to help, but you will come up with the perfect pattern that enhances the look of your outdoor space.
We Are Experienced Professionals & Craftsmen Are Skilled In A Wide Range of Concrete Repair Services.
If you're looking to add more aesthetic and curb appeal to your home, then it's about time you looked into putting in a stamped concrete patio! It is great for replicating a more traditional texture – such as flagstone, brick, or even slate – but lasts much longer! So, follow along for the best stamped concrete patio ideas!
let us show you why fence company cypress has become the go-to source for concrete works in the Cypress, Tx Area. Call us at (832) 843-1558 or Contact us online to schedule an on-site estimate.