If you are looking for the most reliable installers to provide you with the highest quality pool fence Cypress residents love, Cypress Fence Company will serve you best! We're ready to give your swimming pool the best Cypress fence ever. Whether the swimming pool is at your home or your business establishment, we know how important it is to have it fenced.
There are many reasons this is necessary, with one major reason being that many families opt for this to prevent any pool accidents. Of course, pools can be fun, but without the right fence, they can be a place where unfortunate incidents are more prone to happen, causing injuries or even drowning.
Thus, it's crucial to have a pool fence, especially since children are the first ones who need to be blocked from going near the pool when unsupervised. A trusted Cypress fence for the pool is an effective restriction that'll keep everyone in your home or property safe.
Keep your peace of mind by having safe pool fences installed by a trusted fence company Cypress homeowners appreciate. To avoid accidents, owners should prioritize and comply with safety regulations if they have a pool on their property.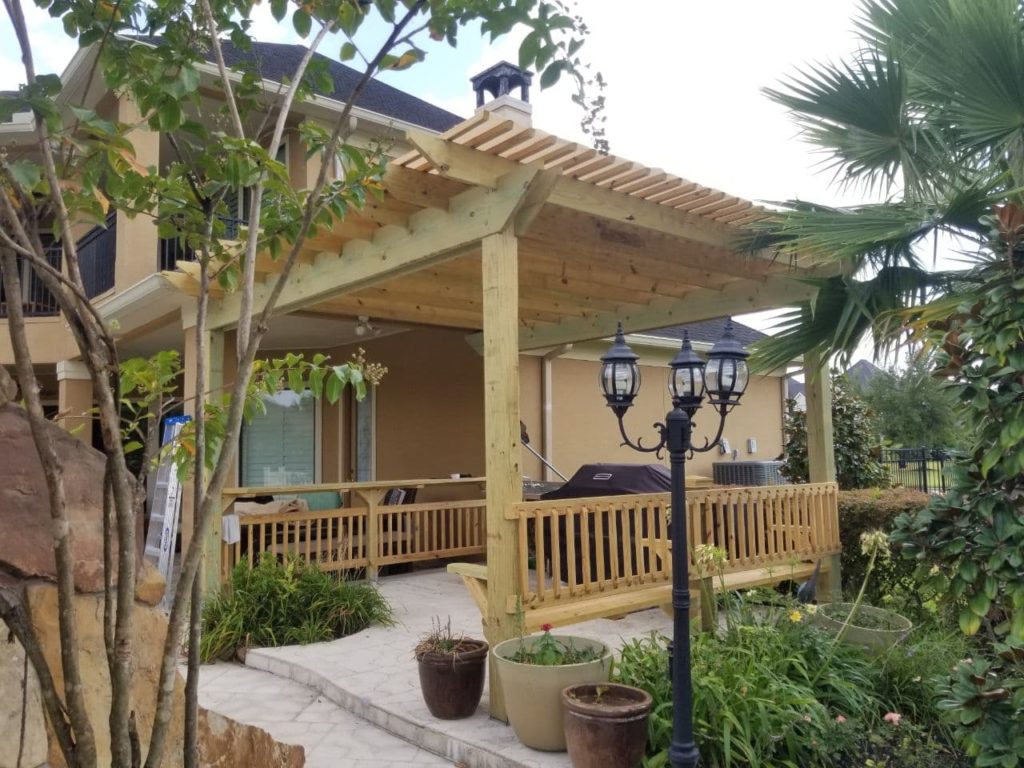 Our Services For Pergolas and decks
At our fence company in Cypress, Texas, we offer a range of services for pergolas and decks, including:
Design – Our team of experts will work with you to create a customized design that suits your style and needs. We take into consideration the size and layout of your outdoor space, as well as any specific features or requirements you may have.

Material selection – We use only the highest quality materials for our pergolas and decks, including wood, composite, and vinyl. We will help you select the best material for your project based on your budget, maintenance preferences, and style.

Installation – Our experienced installation team will ensure that your pergola or deck is installed correctly and efficiently, with attention to detail and safety. We take great care to ensure that the structure is sturdy, secure, and built to last.

Repair and maintenance – We also offer repair and maintenance services for pergolas and decks. Whether you need a small repair or a complete restoration, we can help keep your outdoor space looking and functioning at its best.
Contact our fence company in Cypress, Texas today to learn more about our pergola and deck services and how we can transform your backyard into the outdoor living space of your dreams.
Why Us For Pergolas and Decks
At our fence company in Cypress, Texas, we are committed to providing the highest quality services for pergolas and decks. Here are a few reasons why you should choose us for your outdoor living project:
Expertise – Our team of experts has years of experience designing and installing pergolas and decks. We stay up-to-date on the latest trends and techniques to ensure that we deliver the best possible results.

Quality materials – We use only the highest quality materials for our pergolas and decks, ensuring that your outdoor space is not only beautiful but also durable and long-lasting.

Customization – We work closely with each of our clients to create a customized design that meets their unique needs and style preferences. We understand that every backyard is different, and we strive to create a pergola or deck that perfectly complements your outdoor space.

Attention to detail – We take great care to ensure that every aspect of your pergola or deck is perfect, from the design to the installation. We pay attention to the details that matter, ensuring that your outdoor space is functional, beautiful, and built to last.

Customer service – We pride ourselves on providing excellent customer service throughout the entire process, from the initial consultation to the final walk-through. We are committed to ensuring that you are completely satisfied with your new outdoor living space.
Contact our fence company in Cypress, Texas today to learn more about our pergola and deck services and how we can help transform your backyard into an oasis.
NEED HELP WITH YOUR FENCE INSTALLATION OR FENCE REPAIR. ​
PERGOLAS AND DECKS FROM THE TOP FENCE COMPANY CYPRESS
A Pergolas and Decks are a must-have! Talk to us today so we can start planning the steps and procedure for your pergolas and Decks. We'll provide you with Pergolas and Decks made of reliable materials to guarantee long-lasting protection when you hire us.
Your pool will be a safe and enjoyable place to hang out with your kids and guests. Because we ensure that the materials we use won't demand a lot of maintenance, you don't have to worry about working more than necessary to keep it in excellent condition.
As we create our work according to your pool shapes, designs, patio, and lawn areas, you can expect our artisans to install your pool fences professionally. With our many years of experience installing pool fences all over the state, you can depend on us to install your home pool fence successfully.
We guarantee that you and your family will have a lot of fun soaking underwater with peace of mind in knowing that your safety is guaranteed with our installation of your pool fence. If you have any specific design that you want for your fencing, we'll make it happen. We use our best fence materials like mesh, fence sleeves, caps, and latches, which are all intended to last a long time so that you'll have high-quality fence components.
You don't need to worry about damage to your fencing because our materials and installation methods are installed using exceptional materials. Give us a call today, and we'll let you know about your fence options that'll make your swimming pool as safe as possible.
Expert Tips, Trends, and Guidance from Cypress's Trusted Fence Company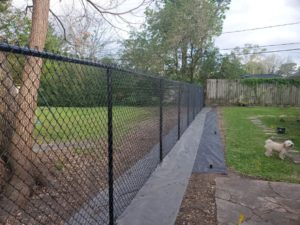 For Cypress businesses seeking a reliable and hassle-free fencing solution,...
Read More
Expert Fencing Services in Cypress
Crafting Quality, Durability, and Elegance for Every Property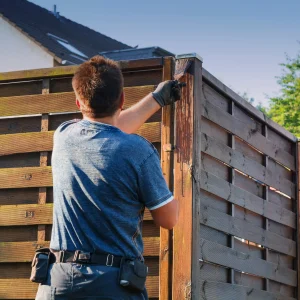 Cypress Fence Repair
Ensure the longevity and aesthetics of your fence with our top-notch fence repair services in Cypress. Whether it's wear and tear or weather-induced damages, our Cypress experts provide timely and efficient solutions to keep your fence standing strong.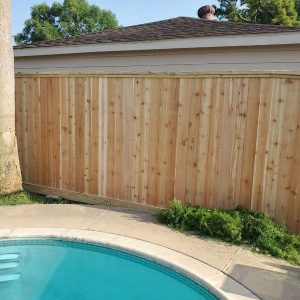 Add a touch of classic elegance to your Cypress property with our wooden fence installations. Crafted from high-quality timber, our wooden fences not only provide security but also enhance the beauty of your Cypress surroundings.
Looking for a durable and cost-effective fencing solution in Cypress? Our chainlink fences are perfect for those who want a sturdy barrier without compromising on visibility. Ideal for both residential and commercial properties in Cypress.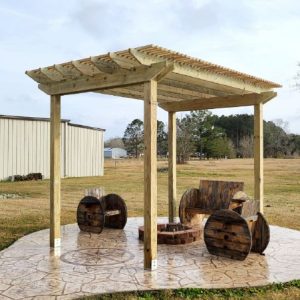 Transform your outdoor space in Cypress into a serene retreat with our beautifully designed pergolas and decks. Whether you're looking to create a shaded area or a platform for gatherings, our Cypress team has got you covered.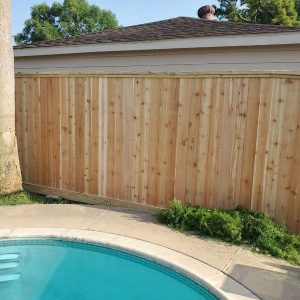 Elevate your outdoor entertainment game in Cypress with our stylish patio covers and state-of-the-art outdoor kitchens. Whether it's sunny or rainy, ensure your Cypress outdoor events go on without a hitch.
Add a unique touch to your pathways, driveways, or patios in Cypress with our concrete stamping services. Choose from a variety of designs and textures to make a statement in Cypress. We are the best concrete stamp company in Cypress and Near by areas.